The 'Long-lost Sicily"
of Me Cumpari Turiddu
Jazz music, dim lighting and upcycled decor: welcome to the home of Me Cumpari Turiddu, filled with the authentic Sicilian flavours of days gone by. A journey into Sicily's distant past, where you can relive and savour artisanal and Slow Food products. This is what the Me Cumpari Turiddu 'restaurant/bistro/coffee shop/delicatessen store', wants its guests to experience.
"The door is always open and the table is always laden with fragrant, genuine food"
Just like a traditional Sicilian home, everything at Me Cumpari Turiddu revolves around the kitchen. It's a place where the door is always open and the table is always laden with fragrant, genuine food – just like grandma used to make – that can be savoured at every hour of the day. And there's always something special to try from the pantry; something with its own unique story and flavour. Me Cumpari Turiddu can be found in Catania, in the central Piazza Turi Ferro plaza, once known as Piazza Spirito Santo.
‹Click on the arrowsto scroll through the images›
Me Cumpari Turiddu's Philosophy:
• We are members of the 'Alleanza degli Cuochi' (Cooks Alliance) and the Slow Food Foundation, which is helping to protect small local producers at risk of extinction.
• We believe in a return to the use of seasonal produce and raising awareness and appreciation of Sicilian culinary traditions.
• We carefully select our products exclusively from small, Sicilian, natural, organic and biodynamic producers, without the use of any intermediaries.
• We believe in safeguarding the right to enjoy good, wholesome food that does not subscribe to the rigid logic of the market or the quick, readymade eating habits of modern-day life.
"At the home of Me Cumpari Turiddu"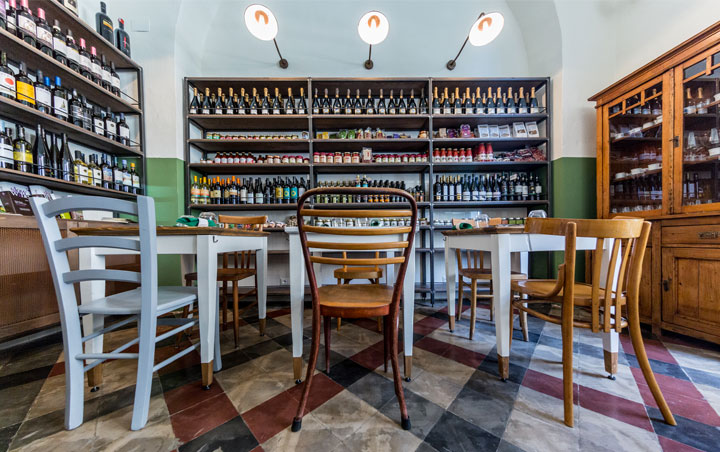 ‹Click on the arrows to scroll through the images›
Coffee shop and Food Corner
At the home of Turiddu, the morning begins with the fragrant aroma of coffee and freshly-baked tarts and pastries that fill the counter at the entrance, all served with freshly squeezed juices, smoothies and Girgentana goat's milk yoghurt.
The day continues with piping-hot sour dough bread, straight from Me Cumpari Turiddu's oven, made from a special blend of typical Sicilian flours which makes it really crispy and easy to digest. Then, at lunch time, we fill it with Slow Food salami and cheeses, like the Mafaldina panini, for example, made with Ragusano donkey Mortadella luncheon meat and traditional 'Capuliato' sun-dried tomato pesto.
There's also the Me Cumpari Turiddu's 'Putia' (bottega) food corner that is always open for people looking to purchase the Slow Food ingredients we use in our kitchen.
‹Click on the arrows to scroll through the images›
"Bistro"
If you're looking for a quick, tasty bite then our Bistro is the perfect port of call. A place entirely dedicated to Sicilian Street Food, where you can savour typical Palermo croquettes, Panelle fritters, focaccia, Pidoni Messinisi and Scaccie Sciclitane pasties, perfect for lunch or an appetising snack after a visit to the theatre.
With its vintage decor and homely atmosphere, at Me Cumpari Turiddu you can rediscover unusual dishes, like mouth-watering fritters made with organic Sicilian eggs, fragrant artisanal Mafaldine pasta and bread rolls made with ancient Sicilian grains filled with Slow Food salami, or chargrilled 'braciolettine alla Messinese' meat chops. Not to mention our creamed vegetables of the day, made with seasonal, zero-mile produce and fresh salads with Girgentana goat's milk yoghurt.
‹Click on the arrows to scroll through the images›
"Restaurant"
An elegant and welcoming atmosphere that will take you on a discovery of Sicily, bringing to mind those Sicilian family get-togethers, where grandparents and relatives lovingly tended to every detail. This is the spirit you will feel while sitting at one of our antique tables covered in a lace tablecloth, where you can eat under the light of crystal lampshades and taste seasonal cuisine from the land and sea, all inspired by Sicilian tradition using ingredients from small, local producers.
Macco soup with fava larga di Leonforte beans, spaghetti alla Turiddu with Masculina da Magghia anchovies, paddlefish 'involtini' rolls with 'sweet and sour' vegetables, palermitana di asino Ragusano luncheon meat, 'biancomangiare' blancmange with almonds and sweet cous cous from the Santo Spirito Convent… These are just some of the dishes that tell the story of the roots and memory of Sicilian cuisine. Also, all our wines are natural and organic and come from small, Sicilian wine cellars.
‹Click on the arrows to scroll through the images›
"Sicilian-style tea room"
Me Cumpari Turiddu's living room is also open in the afternoon, where you can try a selection of Sicilian-grown teas, herbal teas, cakes and desserts, made using recipes that have been passed down by local families for generations.
Citrus-fruit tarts, doughnuts, apple pie, yoghurt pudding on a bed of biscuit and Noto almonds and Bronte DOP Pistachio nuts, are just some of the "duci duci" proposals that Me Cumpari Turiddu has in store for you.
There's also a moreish selection of traditional Sicilian biscuits, like foglie da tè, Cuddriredda di Delia and ciambelline della nonna (grandma's doughnuts).
A pleasurable stop-off point for those in search of a tea room that offers typical regional products of every kind.
Opening hours
Open everyday
from 07:00PM till 01:00AM
Sun/Sat we're open for lunch. Reservations are strongly recommended.
Reserve your table online
We accept booking requests, just fill in the fields below. Final reservation will be confirmed by phone by the room manager, so we kindly remind you to indicate your phone contact.
Me Cumpari Turiddu is ideally located in what used to be called Piazza Santo Spirito (Holy Spirit Square), which was renamed Piazza Turi Ferro, after the famous Sicilian actor, in 2015.
Located in the centre of Catania, the restaurant is easy to reach and just a short walk from Piazza Stesicoro, where you can admire the remains of the Roman Amphitheatre, behind Via Etna and the legendary "A Fera o Luni" market, and it's also just five minutes away from the Duomo.
Me Cumpari Turiddu
Piazza Turi Ferro n. 36, 37, 38  (ex Spirito Santo) – Catania, Italy
+39 095 715 0142
info@mecumparituriddu.it
@mecumparituriddu
Our guests pictures