"Back to Sicilianroots"
Me Cumpari Turiddu
Jazz music, warm lighting, recycled materials: welcome to Me CumpariTuriddu, between real Sicilian and vintage taste. A journey through memory to a Sicily distant in timethat you will be able to recall tastinghome made products and Slow Foodproducts: this is what Me CumpariTuriddu – restaurant, bistro, caféand typicalproductsstore– would like his guests to live.
"The door is always open
and the table laid"
As amongSicilian families, the core of house is the kitchen, strictly open-style. The door is always open and the table laidto offer perfumes and the real taste of a Sicilian grandma's cuisine, ready for you to taste at any time. In the cupboard there is alwaysa specialty to be told and tasted. Me CumpariTuridduis in Catania, located in the city centre in Piazza Turi Ferro, formerly namedSpirito Santo. .
‹Click on the arrowsto scroll through the images›
Our philosophy:
• We adhere to the Alliance of Chefs with Slow Food for the Protection of small endangered local productions.
• We believe in the recovery of seasonality and in the enhancement of the traditional Sicilian cuisine.
• We choose and select only small natural Sicilian productions, organic and biodynamic, no make use of intermediaries.
• We believe in the protection of the right to pleasure on the table, free from the strict logic of the market and the frantic eating habits.
"A Casa di Me Cumpari Turiddu "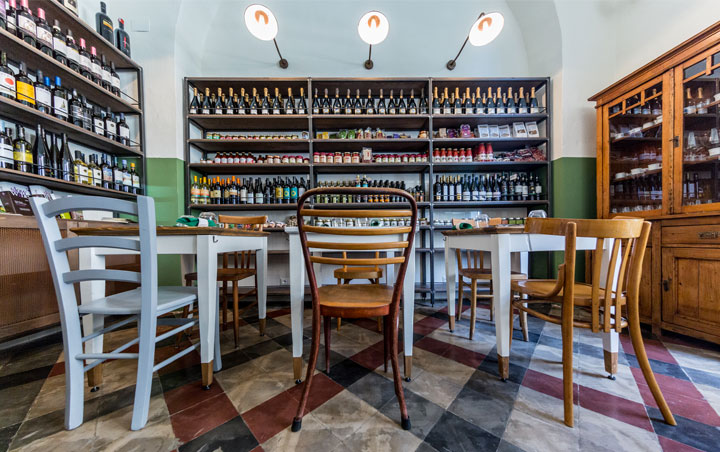 ‹Clicca sulle frecce per scorrere le immagini›
Caffetteria e Putìa
Every day, starting at 10:30 am
AtTuriddu's,mornings startwith coffee, freshly-baked piescrowding thecounter, citrus and natural juices, yoghurt made with "capragirgentana" milk, a particular goat bred near Agrigento.
Days go on withbreshly-baked bread, made withsourdough starter and a mix of typical Sicilian flours making it crispy and easy to digest.Why don't you fill it with Slow Food cold meats and cheesefor lunch?A tasty example is thetypical Sicilian"mafaldina", with donkeymortadellaand"capuliato", Sicilian dressing made with dried tomatoes, basil, oregano and garlic.
Moreover Me CumpariTuriddulocal products store is always open and gathers all raw materials and Slow Food products used in the kitchen, ready for you to buy!
‹Clicca sulle frecce per scorrere le immagini›
"Bistrot"
from 11:30 am to 01:00 am
For a quick and appetizing break here there isour Bistro: the space devoted toSicilian StreetSlow food. Crocchette and panelle from Palermo, focaccia andpidonifrom Messina, scacciefrom Scicli. These are only a few proposals for your lunch break, aperitif or after the theatre.
Amongmismatched plates, vintage tables and chairs, you will relish againgrandma's omelettes, made withSicilianhens' organic eggs, the fragranceof typical bread likemafaldaor pagnotta made with ancient Sicilian wheat and filled with Slow Food cold meatsor grilled braciole from Messina. There are alsoour soups of the day made with seasonal and zero kilometers vegetables, and fresh salads withGreek yoghurt coming from capragirgentana.
‹Clicca sulle frecce per scorrere le immagini›
"Restaurant"
from 11:30 am to 01:00 am
A journey to a welcoming and elegant Sicilyrecalling family mealsatmosphere when grandmas and aunts used to take loving care ofevery detail. With the same spirit, among oldlaced tables andcrystal chandeliers , you will taste a seasonal cuisine made with land and sea products inspired toSicilian tradition and protecting small local businesses.
Large broadbeansMacco fromLeonforte, Turidduspaghetti withmasculina da magghia, a local anchovy,silver scabbardfish rolls with "stimpirata" style vegetables, schnitzelof donkey fromRagusa, almond blancmangeand sweetcouscousfrom the Holy Spirit Convent. These are only some of the dishes recalling roots and memories. Most winescome from Sicilian wineries andareorganic and natural.
‹Clicca sulle frecce per scorrere le immagini›
"Sicilian tearoom"
From 6:00 pm
At Me CumpariTuridduthe living room is open also in the afternoon to taste teas andinfusions grown in Sicilyand desserts made from recipes bequeathed from local villages families.
Citrus pies, donuts, apple pies, yoghurt pudding laid ona crispy biscuit ofalmonds fromNotoandDoppistachiosfrom Bronte: here aresomeof Me CumpariTuriddu'ssweet proposals.
But alsoa careful selection oftraditional biscuits: foglie da tè, cuddrireddafrom Delia, grandma's ciambelline.
An amusing point of reference in the afternoon for those who are looking for a tearoom maintaining the typical regional features in every aspect.
We welcome booking requests! It's sufficient to fill in the fields below. The dining room manager will then officially confirm it by phone, therefore please remember to include a phone number.
There could be no other better location for Me CumpariTuridduthan Piazza Turi Ferro. This square, once calledHoly Spirit, in 2015 wasentitledto the famous Sicilian actor.
It's easy to get there, as it is in the heart of Catania, a few steps from the central Piazza Stesicorowhere you can admire the ruins of the Roman theatre, behind Via Etneaand the local folklorestreet market "A Fera o Luni" and less than 5 minutes from the Cathedral.
Me Cumpari Turiddu
Piazza Turi Ferro n. 36, 37, 38  (già Spirito Santo) – Catania
+39 095 715 0142
putia@mcturiddu.it
@mecumparituriddu
Seen by our guests
[instashow source="@mecumparituriddu #mecumparituriddu " rows="3″ scroll_control="true" free_mode="true" lang="it" color_gallery_counters="rgb(0, 0, 0)" color_gallery_description="rgb(0, 0, 0)" color_gallery_overlay="rgba(237, 237, 237, 0.9)" color_gallery_arrows="rgb(0, 156, 255)" color_gallery_arrows_hover="rgb(0, 0, 0)" color_gallery_arrows_bg="rgb(255, 255, 255)" color_popup_overlay="rgba(228, 228, 228, 0.9)" color_popup_username="rgb(0, 156, 255)" color_popup_username_hover="rgb(0, 0, 0)" color_popup_instagram_link="rgb(0, 156, 255)" color_popup_instagram_link_hover="rgb(0, 0, 0)" color_popup_counters="rgb(68, 68, 68)" color_popup_anchor="rgb(0, 156, 255)" color_popup_anchor_hover="rgb(0, 0, 0)" color_popup_text="rgb(68, 68, 68)" color_popup_controls="rgb(147, 195, 225)" color_popup_controls_hover="rgb(68, 68, 68)" color_popup_mobile_controls="rgb(147, 195, 225)"]